MAT2® Michigan Advanced Technician Training Program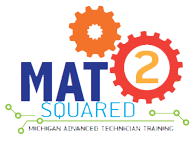 MAT2®– the Michigan Advanced Technician Training Program – is an innovative, industry-driven approach to education. Developed in conjunction with global industry technology leaders to combine theory, practice and work to train a globally competitive workforce, MAT² addresses two critical issues facing the manufacturing and technology industries: a widening skills gap and an aging workforce. This initiative functions similar to an apprenticeship program, where students alternate between classroom instruction and on-the-job training, gaining the necessary hands-on skills and real-world experiences for them to become a successful and productive member of the workforce.
Apply today for training in one of four programs: Mechatronics, Technical Product Design (TPD), Information Technology (IT), Computer Numerical Control (CNC).
Student Open House/Informational Session:
May 7, 2016 MI Advanced Technician Training (MAT2) program
9:30 AM – 12:00 PM
Kalamazoo Valley Community College
6767 West O. Avenue
Advanced Technology Center, Room 5760
Kalamazoo, MI 49003-4070
Information session for students interested in applying for the MAT2 CNC program at KVCC. Through the program, students college tuition is paid by employer, they receive on-the-job training with pay, earn an Associate's degree, and have a job upon successful completion of the program.
MAT2 Employer Information
Michigan Advanced Technician Training

High School Seniors and Recent Graduates

Ever wonder how to get information about high demand jobs and training available in your area?