MAT2® Employer Information
"I highly recommend the MAT2 program. Its innovative, state-of-the-art approach to skilled trades training is a great asset for our company. More importantly, our students are dedicated, hard-working and talented. Many of them will be future industry leaders. The investment is minimal compared to the benefits." -Dr. Patrick Hillberg, Siemens
What is MAT2®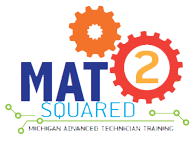 The Story
The Michigan Advanced Technician Training (MAT²®) program is an innovative and industry-defined approach to education. Manufacturing and technology companies are experiencing a shortage of employees with the knowledge, skills and competencies necessary to operate and maintain new systems-based equipment and technologies. MAT²® is an educational model developed in conjunction with global industry leaders that combines theory, practice, and work to train a globally competitive workforce.
The Benefit
Allowing companies to "grow their own" employees and ensure a future pipeline of qualified talent.
Direct employer involvement in the development and execution of a hands-on, competency-based education and training program, creating highly skilled, capable and readily employable graduates.
Offering an economically feasible option to training, ultimately reducing recruitment, retention, and training costs.
Establishing Michigan as an education innovator and global competitor.
Creating a nationally accredited program, in which students receive an associate degree, along with other accreditations where applicable.
The Ask

MAT²® is currently looking for industry partners to hire students in our four program offerings that include Mechatronics, Information Technology, Technical Product Design and CNC Manufacturing. Reserve one or more training slots by March 1, 2016 for your organization in the upcoming MAT²® Fall 2016-2017 programs. Your existing employees can also take advantage of this great training opportunity. Notify your employees that your company is participating in the MAT2 program and encourage them to apply online.
Next Steps for Interested Companies
Submit Reservation Form to wda-mat2@michigan.gov
Review students in applicant pool using your login
You will be contacted by a MAT² team member to schedule an Initial Meeting to discuss the program in more detail
Sign a final Formal Contract that outlines Program requirements
Michigan Advanced Technician Training (MAT²®) Program
Gain the high-tech skills you need to succeed