Earn While You Learn with an Apprenticeship
Michigan Celebrates National Apprenticeship Week - November 12-18, 2018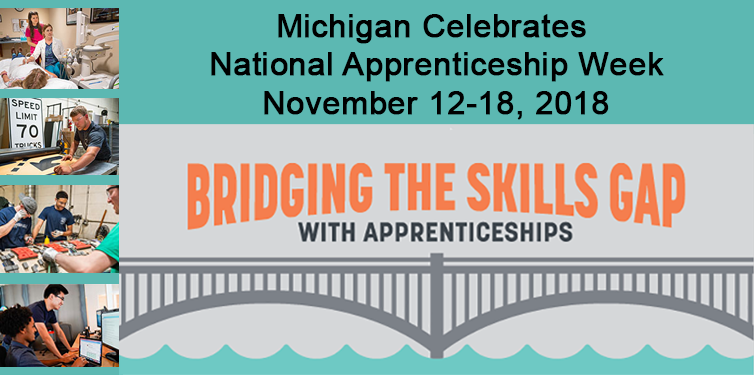 Michigan is one of the leading states across the U.S. with more than 1,000 registered apprenticeship programs and over 18,000 active apprentices.
Michigan is among the national leaders in apprenticeships and the state is working to grow the number of opportunities so more students gain in-demand skills without extensive tuition debt while employers get the talent they need to grow and thrive, creating more and better jobs.
The good news: Apprenticeships are the answer.
View Schedule of Events and Toolkit →
For more information on how you can get involved, please call 517-335-6461 or email TalentFund@michigan.gov.
What is an Apprenticeship?
An apprenticeship is a combination of on-the-job training with a mentor currently working in the field and classroom learning. Apprentices are paid during their training and typically earn a certification or credential at the completion of their apprenticeship program.
Is an apprenticeship a career? Yes! Apprentices start working and earning wages from the first day on the job.
---
Apprenticeship Job Opportunities
Apprenticeship Training Programs
Looking for an approved registered apprenticeship training program in Michigan?

Michigan Training Connect (MiTC) can assist you in making knowledgeable decisions concerning your professional future and career with USDOL approved registered apprenticeship programs in Michigan.
Apprenticeship Success Coordinator

Contact your local Michigan Works! Apprenticeship Success Coordinator to assist your company with developing an apprenticeship program or to assist with connecting career seekers to apprenticeship opportunities.
What are the Advantages of Apprenticeship?
Benefits to career seekers:
Wages earned while training
Improved skills and competencies
Higher wages as skills increase
National, portable credentials
Career advancement
Benefits to employers:
Highly skilled employees
Reduced turnover costs
Lower investment in recruitment
Higher productivity
More diverse workforce