Apprenticeships
What is an Apprenticeship?
An apprenticeship is a combination of on-the-job training with a mentor currently working in the field and classroom learning. Apprentices are paid during their training and typically earn a certification or credential at the completion of their apprenticeship program.
Get paid to go to school and work immediately.
MAT2 can be your pathway to a career.

eLearning Soft Skills Program
eLearning series of key lifelong soft skills needed for workplace success.

What is a Registered Apprenticeship?
Registered apprenticeships are high-quality work-based learning and post-secondary earn-and-learn models that meet national standards for registration with the U.S. Department of Labor (or federally recognized State Apprenticeship Agencies).
Registered Apprenticeship
Becoming an Employers sponsor
Becoming an Apprentice
MI-AIM
Michigan Construction Careers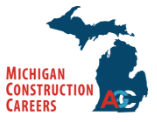 YOUR FUTURE
The growing demand for trades jobs has opened new windows of opportunity. Apprenticeships provide expert, reputable training for young individuals looking for a career in construction.