MAT2 Michigan Advanced Technician Training Program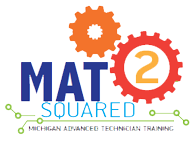 MAT2– the Michigan Advanced Technician Training Program – is an innovative, industry-driven approach to education. Developed in conjunction with global industry technology leaders to combine theory, practice and work to train a globally competitive workforce, MAT² addresses two critical issues facing the manufacturing and technology industries: a widening skills gap and an aging workforce. This is an apprenticeship program where students alternate between classroom instruction and on-the-job training, gaining the necessary hands-on skills and real-world experiences for them to become a successful and productive member of the skilled workforce.
---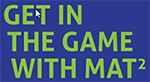 Get in the Game with MAT2
Join the Michigan Advanced Technician Training (MAT2) program to hear how you can get paid to learn and find success pursuing a digital or mechanical career in the Professional Trades. This event is open to students, parents, teachers and counselors. MAT2 gives students the information and hands-on experience to become competitive employees in high-tech, high-paying Professional Trades careers: computer numerical control (CNC) engineering, information technology (IT) and mechatronics.
Baker College of Cadillac: Thursday, November 29, 2018 5:30 PM – 8:30 PM EST - Register