MAT2 Employer Information
"I highly recommend the MAT2 program. Its innovative, state-of-the-art approach to skilled trades training is a great asset for our company. More importantly, our students are dedicated, hard-working and talented. Many of them will be future industry leaders. The investment is minimal compared to the benefits." -Dr. Patrick Hillberg, Siemens
What is MAT2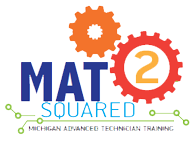 The Story
The Michigan Advanced Technician Training (MAT²) program is an innovative and industry-defined approach to education. Manufacturing and technology companies are experiencing a shortage of employees with the knowledge, skills and competencies necessary to operate and maintain new systems-based equipment and technologies. MAT² is an educational model developed in conjunction with global industry leaders that combines theory, practice, and work to train a globally competitive workforce.
The Benefit
Allowing companies to "grow their own" employees and ensure a future pipeline of qualified talent.
Direct employer involvement in the development and execution of a hands-on, competency-based education and training program, creating highly skilled, capable and readily employable graduates.
Offering an economically feasible option to training, ultimately reducing recruitment, retention, and training costs.
Establishing Michigan as an education innovator and global competitor.
Creating a nationally accredited program, in which students receive an associate degree, along with other accreditations where applicable.
The Ask

MAT² is currently looking for industry partners to hire students in our two program offerings that include Mechatronics and CNC Manufacturing. Reserve one or more training slots by Monday, April 16, 2018 for your organization in the upcoming MAT² Fall 2018-2019 programs. Your existing employees can also take advantage of this great training opportunity. Notify your employees that your company is participating in the MAT2 program and encourage them to apply on Pure Michigan Talent Connect.
Michigan Advanced Technician Training (MAT2) Employer Training Grant
You may be eligible for MAT2 tuition reimbursement if you register your MAT2 employee(s) for a USDOL Registered Apprenticeship. The purpose of the Michigan Advanced Technician Training (MAT2) Employer Training Grant is to increase the number of MAT2 companies registering their programs with the United States Department of Labor Office of Apprenticeship, and to better integrate MAT2 with the broader workforce and talent system.
MAT2 Newsletters
2018-2019 Programs:
Mechatronics Technician
Combination of electrical, mechanical, and electronic skills used to identify, analyze, and solve systems-based problems. A mechatronic technician will support engineers, modify machines, make minor changes, repair, test and provide maintenance for related equipment.
2018 College Partners: Baker College-Cadillac, Henry Ford College, Oakland Community College Mechatronics MAT2 Curriculum
Mechatronics MAT2 Curriculum→
CNC Manufacturing Technician
CNC manufacturing technicians set-up, operate and produce high quality products on computer numerically controlled (CNC) machine tools. Program participants will be competent in blueprint reading, gauging and inspection, statistical process control, mathematics, safety, and machine tooling.
2018 College Partners: Henry Ford College, Kalamazoo Valley Community College
CNC MAT2 Curriculum→
Next Steps for Interested Companies
Submit Reservation Form to mat2@michigan.gov
You will be contacted by a MAT² team member to schedule an Initial Meeting to discuss the program in more detail
Create an Employer Account on Pure Michigan Talent Connect – if you already have an Employer Account please skip to #4
Post a MAT2 job to the Pure Michigan Talent Connect (mitalent.org) site
Review applicants
Select an applicant for the program
Sign a contract with the community college(s) that outlines program requirements and commitments
Michigan Advanced Technician Training (MAT²) Program
Gain the high-tech skills you need to succeed