Other Resources
Entrepreneurship
Being your own business owner can be a rewarding career path that many veterans have chosen to undertake. Find out more about how Michigan provides entrepreneurial support to start and operate a business in the state. The links below are resources that veterans can use to either learn about opening up a business or for current veteran business owners to help grow and develop their business further.
Additional Information
The Additional Information section contains information on the following topics:
Are You a Veteran Seeking Employment?
Don't miss out claiming your Veteran's Preference!
Have you served in the U.S. Military? If so, add your veteran status to your Talent Connect profile.

Veterans Benefits and Services
Employment, Veterans Homes, Quality of Life, Education, Healthcare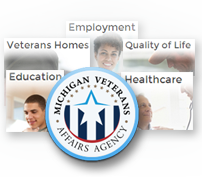 Visit VA's Veteran Employment Services Office website for more resources.