Advanced Manufacturing
This isn't the production line technology of your grandparents or your parents – these are cutting-edge careers using 3-D models, computer simulations, software development and more.
Possible career paths include:
---
Learn about Ferris State University's Welding Program.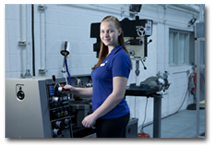 Advanced manufacturing careers mean success:
Rebekka Neumann, Mechatronics Apprentice
Rebekka Neumann liked to take things apart and rebuild them from an early age. But it wasn't until she joined her high school's robotics team that she really knew she'd make a career in the manufacturing field.
Now she's part of the first class of the Michigan Advanced Technician Training (MAT²) Program graduates. MAT² engages students in high-tech fields such as mechatronics and computer numerical controlled manufacturing, while working at a sponsoring company. Rebekka graduated without any tuition debt as her employer paid her to work and go to school. She graduated with an Associates of Applied Science as well as other certifications.
Rebekka is now working full time for EMAG LLC in Farmington Hills, a builder of machine tools. As part of her MAT² training, she mastered a combination of electrical, mechanical, and electronic skills used to identify, analyze, and solve systems-based problems. Rebekka was named by the Society of Manufacturing Engineers as one of "30 under 30" Rising Stars of Manufacturing.
---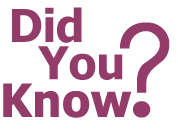 Michigan leads the nation with an increase of 145,300 manufacturing jobs since 2009?
Manufacturers in Michigan employed 600,200 workers in 2016? The most recent data available shows these workers had an annual average compensation of $77,277 in 2015.
In 2016, the largest single automotive related manufacturing sector, Transportation equipment manufacturing, provided 180,100 jobs in Michigan? Michigan jobs in this industry accounted for 11.1 percent of national employment in the sector.
The other automotive-related industries in the Manufacturing sector include machinery manufacturing, plastics and rubber products, and primary and fabricated metals? Combined these industries employed 215,900 workers in 2016.
Gross State Product (GSP) in the Manufacturing sector accounted for 19.2 percent of total GSP in Michigan during 2016?
---
---
Michigan Manufacturers celebrated the companies and the careers that drive the industry on October 5, 2018. Manufacturing Day is a celebration of modern manufacturing meant to inspire the next generation of manufacturers. Companies around Michigan hosted events to introduce students and educators to the opportunities available in the industry and highlight modern manufacturing to businesspeople, media and politicians. Learn more →
---