Unemployment Information
If you would like to file or view a recent claim for unemployment benefits please visit: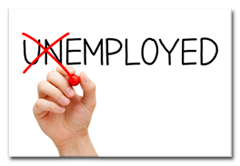 If you're unemployed and looking for guidance, support and resources to help you in your job search, you've come to the right place!
Update your resume
Unemployment benefits can last for up to 20 weeks and that gap in work history may present a challenge. Periodically, look for things to add to your resume. It indicates to potential employers that you are actively developing yourself and will also provide some material to speak about during a potential interview.
Register with your local One-Stop
One-stop services centers are often co-located with employment services. By registering with your area one-stop you have access to a career advisor that can provide some assistance, workshops to expand your interviewing and resume building skills and even funding for training programs if you qualify.
Manage your finances
Unemployment benefits are limited. Developing a mechanism for managing your finances will help avoid the issue of having to take the first available job after your benefits are exhausted.
Pure Michigan Talent Connect (PMTC)
Create/update your Pure Michigan Talent Connect profile and attached resume frequently to include accurate: contact information, skills, education, certificates, etc. Check the job openings on PMTC as often as possible. Apply to openings promptly. Be sure to follow the application instructions carefully.
Improve Yourself
Seek out ways to improve your computer skills - local library, Michigan Works!, community college, etc. Seek ways to continue networking in person and through www.LinkedIn.com. Attend Chamber of Commerce functions, events at your local library and PMTC career events.