Career Exploration and Awareness Toolkit
This toolkit includes a variety of materials that you can use to help your audiences determine the best path to a career and even fuel their imaginations for Career Exploration.
Pathfinder Toolkit
The Pathfinder Promotional Toolkit – Everything you need to promote the use of Pathfinder in your community.
Career Exploration & Awareness Month Promotional Toolkit
December is Career Exploration and Awareness Month. If you'd like to help celebrate and promote this month-long effort to increase career exploration and awareness month, check out the promotional toolkit below.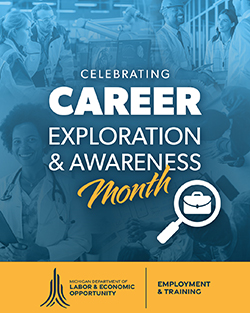 MiCareerAwareness: Entrepreneur
MiCareerAwareness: School Counselor
---
#MiCareerAwareness: Judge Boyd
---
ExperienceSooner: Kalitta Air
---
ExperienceSooner: Petoskey Farms Vineyard and Winery