Planning A Job Search
1. Building Relationships
Studies have shown that 70-80% of employers hire people through individual outreach or employee referrals. That makes it critical to get to know people in the companies you are targeting. Find out if your family or friends know anyone at these companies or attend events at which the company has a presence.

Using social media tools is a powerful way to build relationships by expanding networking opportunities and forming new connections.
Managing Social Media→
Employers are checking the social media accounts of prospective employees more than ever. Avoid these social media blunders to help you land your dream job.
2. Resumes & Cover Letters
Your cover letter and resume are often the first impression employers will make of you, so it is critical that both reflect the best you have to offer. A well constructed resume and compelling cover letter can make the difference between getting your foot in the door and being just another name in the pile.
3. How to Complete an Application
The job application is the gateway to an interview with a company. It is critical that your application present the best information possible in the most skillful way possible. Remember, the employer will likely be looking at how you answer the questions as closely as the actual answers. It is critical that your application is accurate, fully complete and neat. Filling out a practice application first may help you to formulate your answers and ensure a clean final version. Find tips at About Careers and eHow. Some tips to consider:
Read the instructions and the entire application carefully before you start to fill it out.
Write legibly, using a blue or black ink pen. If you have bad handwriting, consider typing your application.
Include only positive information on the application – but do not claim to have experience or skills that you do not possess.
If a question does not apply to you, indicate with a N/A or dash. Otherwise it may appear to the employer that you missed the question.
Allocate the most space on the job application to the most applicable and pertinent data.
Answer honestly, but do not share more than the question is asking.
Apply for a specific job(s). To indicate you would be interested in other jobs besides the one you are applying for, write the job title followed by (or similar position).
4. Job Interviewing
Go into every job interview prepared. Sites including CareerOneStop and Career Builder can help in your preparation need. Know some background on the company or business to which you are applying, including any recent announcements or mentions in the news, names of people in key leadership positions and any other relevant background. Also be prepared to answer questions about why you are applying and what you would contribute to the company or business. Always dress professionally, arrive on time and bring extra copies of your resume with you.
5. Create a Career Vision
What do you want to do? What skills do you have? What other skills might you need? This is especially important if you are looking to change professions or fields.
6. Career Exploration
If you don't know exactly what you want to do, now is the time to explore different opportunities. Read books about careers; take interest inventories to find out how your interests intersect with various careers; talk to career counselors. Another great way to explore career options is through informational interviews. Job fairs and career events can also provide you with key information.
Visit Michigan's LMI Fast Facts for employment trends, wages, industries, and jobs in demand.
7. Employer Strategy
After you determine what it is you want to do, make a list of 30-50 companies that hire people to do what you want to do and are within commuting distance. If you have been laid off in one industry, see where other industries have overlap with the skills you already have. Or if you are looking for a career change, it will help you determine which skillsets you need to obtain through job training or internships. This information will help you target your job or career search and provide a starting point for setting up informational interviews.
LinkedIn→
LinkedIn is a professional networking tool that allows you to connect with past and present colleagues and classmates, as well as form new connections that can help you in your search for a new job or business opportunity.
Twitter→
This networking tool can help you find people with common interests. Use Twitter to help in your job search by following employers and job sites that post openings.
8. Get Out There
Join Job Clubs at your local Michigan Works! agency. There are more than 100 Michigan Works! locations in the state connecting job seekers with employers and providing career services. Attend networking and informational events. Look into programs like SHARE Network that bring together workforce development partners, faith-based organizations, community organizations, businesses and government agencies. Make business cards that summarize what you want to do. Volunteer, intern or job shadow with someone to get relevant experience.
9. Stay Positive
Most people experience a career transition at one time or another. Take advantage of resources and view this as a time to evaluate your skills and to find an opportunity that will be a wonderful fit.
Find Career Events across Michigan connecting Talent with Employers.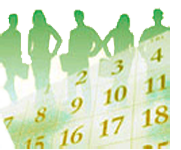 Career Connect Newsletter
Sign up to receive a bi-weekly newsletter with valuable information to help in your job search, including listings of in-demand jobs, featured employers, and news items.

Create a Profile on Pure Michigan Talent Connect!
Personalize Your Profile
Search for Entry-Level & Internship Positions
Become More Visible to Top Employers