Information Technology
Like to surf websites? Then why not be the person who designs them. Whether you're a web developer or a PC repair technician, an information technology career is never dull. Technology evolves at lightning pace, requiring fast-thinking technicians that not only stay on top of today's challenges but look to tomorrow's possibilities.
Possible career paths include:
Computer Programmers

Computer Support Specialists

Network & Computer Systems Administrators

Telecommunications Equipment Installers & Repairers

Web Developers
Information technology careers mean success: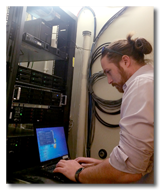 David Anderson, Systems Administrator
Information technology careers mean success: David Anderson, Systems Administrator David Anderson always liked solving puzzles. As a child, he would rework his favorite Super Mario Brothers puzzle again and again. That childhood fascination with "How does this work?" has led to his career as a systems administrator at BHK Child Development Board in Houghton, MI.
"I think it became an obvious decision for me as I began to realize that the knowledge and information I gleaned out of my own curiosity was something that others were willing to pay me to utilize."
While attending high school at Wheaton Academy outside Chicago, David parlayed a 3-week internship into a part-time systems operator job at a publishing house ― he was hooked. "Technology presents so many challenges and those challenges can change so quickly, such as 3 a.m. critical system failures where making the right decision means no one else even notices an issue, while making the wrong decision could mean significant downtime and millions of dollars."
David's on-the-job-training continued; he was promoted to a full-time systems administrator while earning his Bachelor of Science in Computer Information Systems at Benedictine University. And his IT career choice is still paying off. "Today I have 10 years of experience as a systems administrator. I still love the day-to-day tasks and challenges that this career offers."
---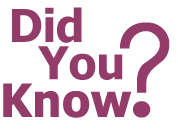 By 2020, 1.4 million new information technology jobs will be created in the U.S.?
Computer programming is among the top 60 high-growth, high-wage occupations that will account for 11.5 million new hires and 28 percent of job growth in the U.S. by 2020?
---
Tom Daldin talks to children about early curiosities and Skilled Trade jobs in Michigan.

Post-Secondary Education Opportunities
Educational institutions that offer Skilled Trades training and programs.